Exhibition Stand
Contractors in Dubai
Creative Exhibition Stand Builders
Your Ultimate Partner for Trade Show Success
THE
EXHIBITING

COUNTRIES WHERE WE SERVE.
CREATIVE EXHIBITION STAND SOLUTIONS IN
DUBAI
We Specialize in Customized Stall Fabrication & Designing
We are a team of Exhibition stand/booth professionals who design and build Exhibition stand according to client's requirements, and we always focus on quality and building time to meet the client's necessity.
We have worked in this industry for the last 12 years and serve UAE and other GCC countries. Our team always works hard to meet the client's requirements. It works dedicatedly to increase the brand voice by designing and building the Exhibition stand more attractive to engage visitors.
YOUR ONE-STOP SHOP FOR TRADE SHOW
SUCCESS
One of the best Exhibition Stand Building Company in Dubai, UAE
We always understand the importance of our client's time in every project. We deliver our best exhibition stand booth designing and fabrication service in Dubai according to the client's budget.
We focus on delivering each project on time or before time.
We have all the equipment to make excellent Exhibition stands and booths in Dubai, UAE. Our team of R&D will take all the necessary information about the industry's latest designs and creativity.
We handle multiple projects simultaneously due to a huge production team and great space in the working area. We design your stand, which gets easily installed and can even take you from one place to another without damage. We always guarantee you that the work will be the best in the industry as we trust in our well-trained professionals and powerful equipment.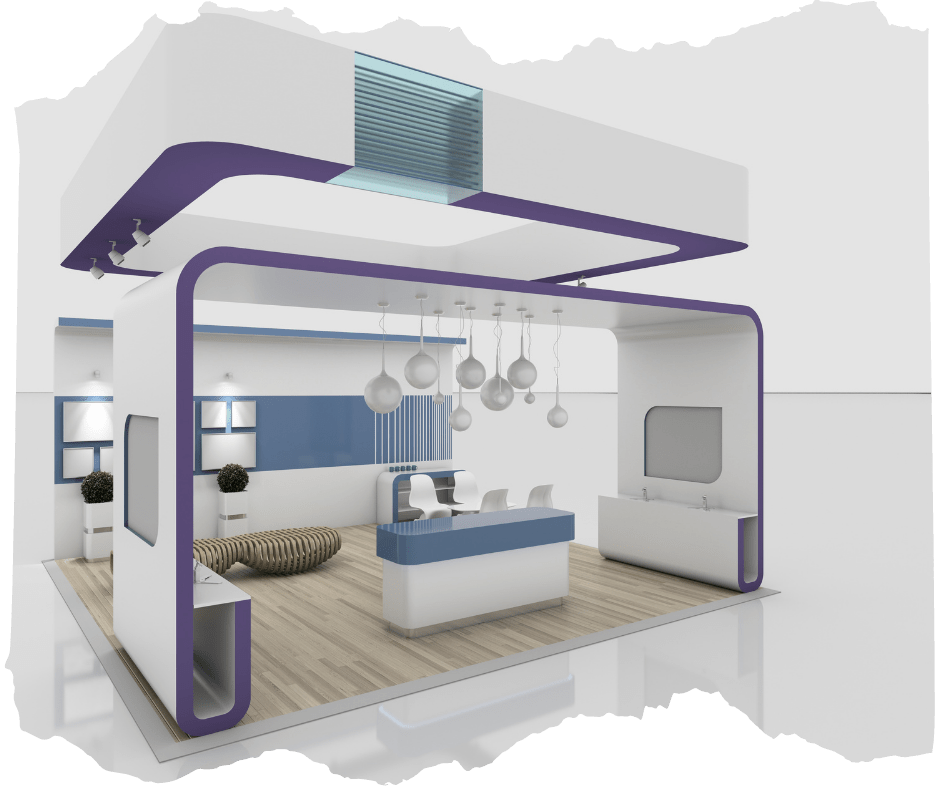 Our Exhibition Stand Design Portfolio In
Dubai
Why Choose Us our Exhibition Stand Builders?
Experience and Expertise: We have over the years' experience with a team of seventy and above designer's based in twenty six and more countries and eighteen plus production houses, whereby they design and build the exhibition stands for many industries.
Customization: Our tailor-made solutions are aimed at meeting the unique demands of our clients while ensuring their distinct identity within the packed exhibition scene.
High-Quality Materials: Our production department consists of more than one hundred and twenty professional technicians using only top quality equipment.
Cost-Effective Solutions: We offer budget friendly solutions to our clients while maintaining top notch quality at the same time.
End-to-end Service: Our operations span from designing to installations so as to make sure our clients are at ease.
Global Reach: Our offices are located in over twelve countries. The global reach helps us offer top-notch services to customers across the world.
Dedicated Team: We maintain a close working relationship with our customers, ensuring we comprehensively understand their needs before providing them with solutions that go beyond satisfactory.
Customer Satisfaction: Through satisfying our customers we have been able to create strong bonds of trust with them and they are always comfortable for us to go an extra mile to help them.
On-Time Delivery: The deadline consideration is key, which helps us deliver our services in time so that our client remains within the trade schedule.
Comprehensive Solutions: We provide complete exhibiting services covering logistics, storage, and preservation, allowing our customers to enjoy relaxed time herein.
Materials for Exhibition Stands in Dubai: Crafting Memorable Experiences
In Dubai, an exhibition stand is more than just a place where a business places its brand story in order to interact with various people all over the world. It is essential in creating these immersive experiences as the selection of the appropriate material is very crucial in making these immersions possible. We shall look at the usual materials used for creating magnificent Exhibition stands in this vibrant city.
1. Customized Woodwork: Due to its flexibility, wood is one of the most popular choices for an exhibition stand design in Dubai that gives off a feeling of lavishness. Customized woodwork plays an essential role in delivering unique styles while ensuring perfect finishes appropriate for the business.
2. Aluminum and Steel: The frame of these exhibition stands should be made of light, but strong materials. These are durable materials which allow malleability, thus enabling them to take any size or shape conveniently.
3. High-Grade Acrylic: Acrylic offers the best choice in terms of making contemporary as well as transparent components in exhibition stands. The booth can include items such as signages, display cabinets, and decoration boards, which will make them more attractive.
4. Fabric and Textiles: Textile and fabric have been a must during the creation of vibrant backgrounds for attractive pictures. To add color and texture, tension fabric displays and fabric graphics can be utilized as popular options on exhibition stands.
5. Glass: Usually glass elements like shelves, counters, and display cases are included to display the product or provide an open, breezy look in the stand. The frosted glass has the advantage of adding some degree of privacy as well as beauty.
6. Sustainable Materials: In keeping with global environmental trends, Dubai now uses bamboo, recycled wood and re-usable plastic as exhibition stand materials. The move also draws environmentally concerned customers and portrays ecological concern in business operations.

7. LED Lighting: Therefore, it could be argued that although is not one of the most essential elements of exhibitions stands in Dubai, LED lighting is for the presentations. The same can also be incorporated into various kinds of materials for appealing appearances which create a peculiar sensation or ambience.

When used cautiously, they will help firms in Dubai create exhibits that are not only aesthetic but functional. Whether it is the classy wood or the modern acrylic express the life of Dubai city.

Idea Exchange
We listen to your ideas and understand your needs.

3D Design
We make your ideas true in 3D visuals.

Fabrication
One Platform for all the process and designs.

Transport
Stands transportation facility and national delivery
Build & Install
We build your stands at the committed time and ensure smooth opening.

On-Site Management
Our pro technicians supervise all the on-site management.

Dismantle & Storage
Efficient exhibition-show clean-up and stock management.
Reliable Exhibition Stand Contractors in
Dubai, UAE
YAY! We are Here To Help!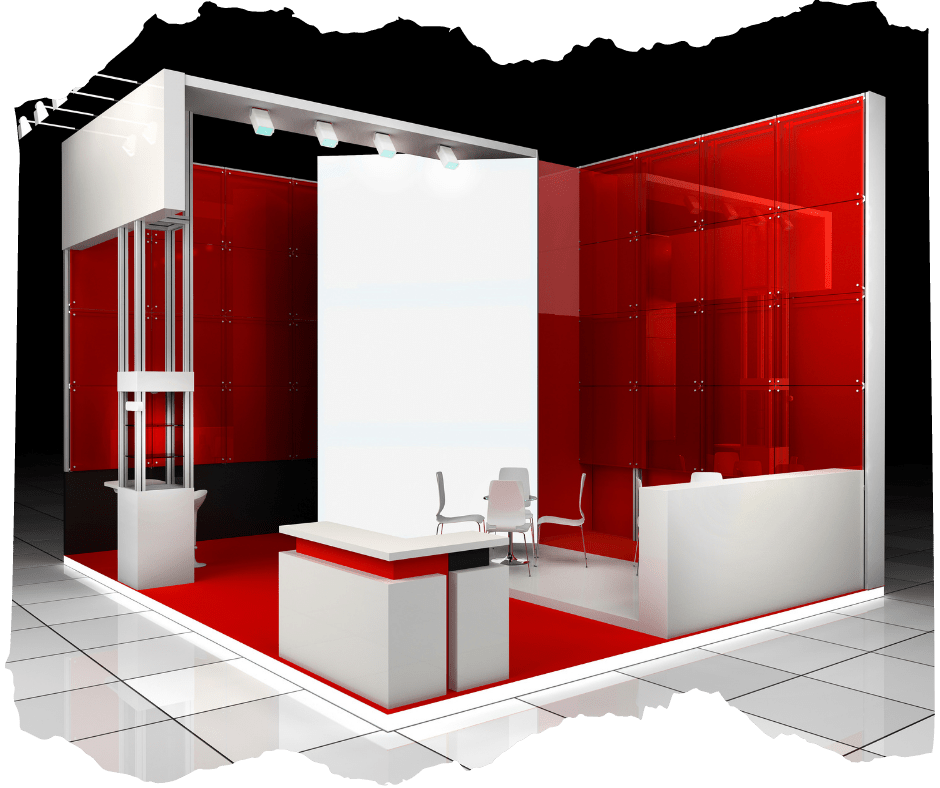 The exhibition stand contracts service is created to take away all possible difficulties from the clients when they participate in the exhibitions or various shows. Being a seasoned contractor, we attend to all aspects of the exhibition stand, starting with designing and ending with installing, enabling the customer to concentrate on his primary business.
In order to produce dazzling, workable exhibition stands, attention to detail matters. Therefore, we pay great attention to the choice of good quality materials and finishes for each detail to form an integrated impressive presentation.
Professional contractor services are offered by our company, taking into account different requirements of exhibitions for our clients. With a personalised approach to designing, keen care during construction and installation and efficient project planning and coordination, we are sure to provide exhibition stands beyond our client's expectation.
CREATIVE EXHIBITION STAND DESIGN & BUILD SERVICES
Exhibition Stall Fabricators In Dubai
Our team of Exhibition Stands Builders in Dubai and Abu Dhabi will assure you that your product or service is taking place in the mind of your potential customers when they see your product on an exhibition stand with attractive graphics and are able to understand your product in seconds and your staff did not need to explain anything about the product instead of allowing to use your product or service procedure. You will see your product in such an attractive way that you will be going to love it. Without taking risks you never become a true businessman as we assure you that you will impress with our work and become part of our business. Your one step will bring your business to a good level and even increase your business leads.
The best part about us is that we are creative and punctual as well and we provide all information about your Event Management in Dubai and keep on sharing new ideas to enhance your exhibition stand quality which helps to increase engagement. We are here in this business to build new relationships with our potential customers for the long run. We take care of our clients as from starting till now no customer get disappointed with our work. Whenever our client faces any problem the whole team together finds a solution. Our team is at the top of making an exhibition stand in Dubai and Abu Dhabi, UAE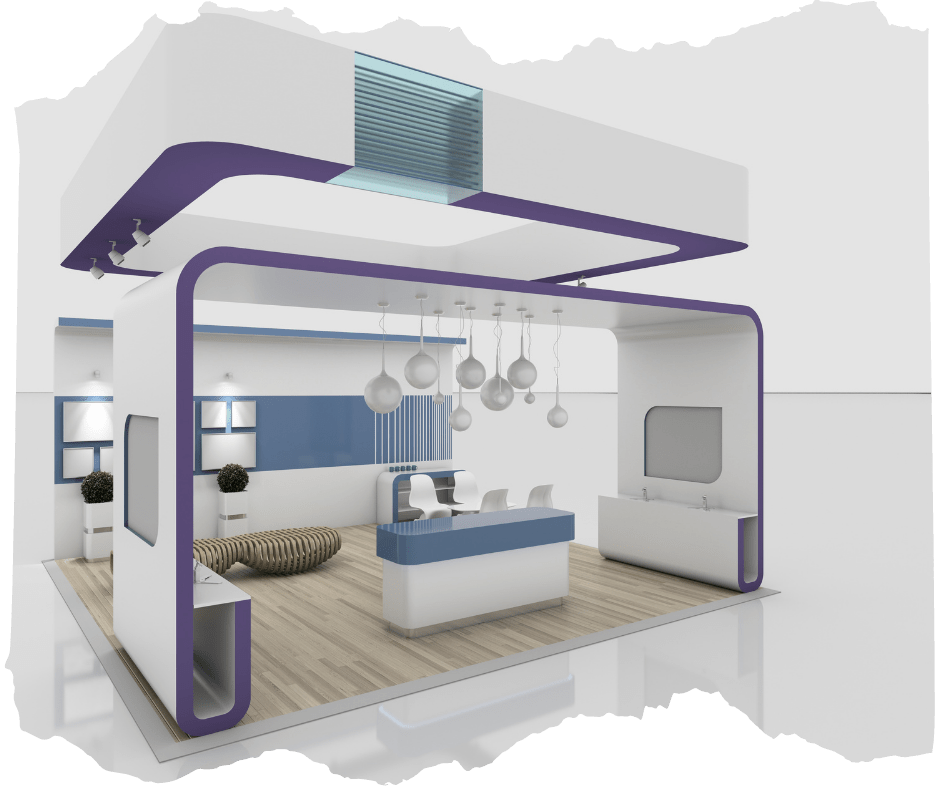 Choose the best Exhibition Stand Companies in Dubai and Abu Dhabi, UAE
The construction of exhibition stands is a diverse process. There are several different ways to build a stand, from simple wooden ones to complex steel structures. The difference between a systemic stall and an individual one is the type of space it provides for graphic and design work. Non-systemic stands allow for virtually any design or shape and are more interesting. These are often the preferred option for companies with enough budget and resources to invest in their own custom stall. ExproGlobal is one of the leading exhibition stand builders in Dubai. We have a long history in this industry and are highly experienced in constructing exhibition stands. Our team of exhibition stand builders have a great deal of experience with the MEDICA trade show, which is the largest in the world. A quality exhibition stand is a vital element of a successful exhibiting event, so it's important to get it right. Not all exhibition stand builders provide the same high-quality service, but those that do have experience in building exhibition stands will deliver. Our company is highly experienced and have completed a wide range of projects for Our clients in many industries. We offer custom-made exhibition stands as well as modular exhibition stands. They are experts in the field and will provide you with a quality exhibition stand. They can also help with the design and construction of your stand, which means your entire project will be a success!
The best exhibit booths will put you ahead of your competitors at business exhibits. Success is hinged on the exhibition stands, which will assist you attract new customers. You can get expert assistance from various exhibition stand builders in Dubai to develop an ideal stand through which your business's character and aims come out clearly. ExpoGlobal Company will assist you in generating an effective exhibition strategy as well as your stand's size for your company at ExpoGlobal. The design of your exhibition stand determines whether it will be successful or not. The benefits of outsourcing your stand design to a professional design company cannot be overemphasized! The Dubai exhibition stand builders will also make sure that the display material is adjusted to fit in with your trademark. Our exhibition stand builders have exceptional quality of materials. For sophisticated stands in the context of a product promotion or rather low and compact for a trade show we will be glad to offer suitable decision. Not all of the companies in their class are the same. Other companies may provide a modular stand or even a tailor-made one. Reputable show exhibiters or display builders in Dubai design as well as construct every form of exhibit or display including modular or customizable exhibits. Good quality construction is important in this industry and those with prior experiences know that. We will also be by your side as you build a magnificent stand. We provide modular or custom-made exhibition stands for your convenience.
Exhibition Stand Builders in UAE
Your booth must be excellent if you want to distinguish yourself from competitors at trade exhibitions. When it comes to business events, exhibition stands do play a huge role in winning you new clients. Professional experts in exhibition stand builders in UAE can assist you in creating an exclusive stand that shows the identity of your enterprise and target goals. For instance, Exproglobal will guide you through an effective exposition strategy and that of a stand's dimension. The design of an exhibition stand determines the success of a show. Therefore, it is necessary to hire a professional design firm so as to create an appealing stand which will attract many viewers. Also, our exhibition stand builders will also tailor the exhibition materials to your brand. Our exhibition stand builders use amazing quality materials. We provide both complex booths for product launches and compact stands for a tradeshow; so, you may select the most appropriate variant. Not all exhibition stand builders are equal. Some of them are able to provide a generic tower, while some provide a personalized one. There are two categories of exposition stand, and a good exhibition stand builder in Dubai is able to construct both sorts. Quality construction is crucial, especially for those who have worked in this field extensively. They shall partner with you so as to ensure that your stand exceeds standards. We have modular as well as custom-built stands for exhibitions that are suitable for you.
Exhibition Stand Design Companies in Dubai
An exhibition stand that is well designed and constructed for showcasing in a trade show, exhibition or business event can significantly determine whether your event was successful or not. Memorable and stick in clients minds. Hiring experts for exhibition stand builders in Dubai is a great idea since they have several decades worth of experience in this area, and this means that your exhibition stand will be a work of art. Here are some of the benefits of working with such companies: To start with, it is important to understand that the quality of your exhibition stand matters a lot. An outstanding design firm will make a stand that is attractive enough to pull in numerous visitors. You can also customize your exhibition stand apart from merely designing its display materials. Dubai exhibition stand builders employ high-end materials as well as competent personnel designers. This is good news for you because they do create exhibition stands in a special design for every occasion.
Exhibition Stand Design Design in Dubai, UAE
We are a professional company that builds exhibition stands if you are searching for an exhibition stand builder in Dubai. The company is a leading construction firm and event organiser spanning through the Gulf region. We are established for over twelve years now and have developed a robust partner's network in the GCC region and across the globe. Additionally, we have a presence in Asia and Europe. Feel free to contact us for more information. Below is some of the advantages for using ExproGlobal Company. Most importantly, a well planned presentation stand will really enhance your success of the event. Ensure your booth is the talking point at the show. We base our ideas of EXHIBITION booth design on the challenges of our customers. Through using elements of architecture, lighting and graphic materials we have developed a stand that stays with the targeted audience for a long period of time. Additionally, we also assist in developing a strategy and choosing an appropriate size of the stand. Your company, products, and services need to be in focus through an effective designed exhibition stand to get attention for your company. This will allow you to establish credibility with potential buyers all over the world. These include showing products, samples, and brochures. Additionally, a good exhibition stand will enable you to offer visitors with free samples or leaflets. Also, the design of your exhibition stand should convey your brand's principles, identity, and products.
We Are The Best Exhibition Stand Contractor Of 2023 IN DUBAI
ExproGlobal is the best exhibition stand contractor in Dubai in 2023 and we are proud of it. We are the best choice because of our vast experience in erecting excellent stands and booths for shows and exhibition of any size. We have earned this confidence in delivering exceptional results and are the go-to company by such customers. We are experts in designing appealing and practical exhibition stands for a wide range of events such as a corporate event, trade show or launching a product; and it goes without saying that this can help to impress any target audience. Allow us to make your vision true, and elevate your brand into greater heights in the marketplace.