EXHIBITION STAND CONTRACTORS IN
SINGAPORE
Rated #1 Exhibition Stand Designing Company In Singapore
REQUEST FOR BOOTH QUOTATIONS
LEADING EXHIBITION STAND BUILDERS AND CONTRACTORS IN
Singapore
We Specialize in Customized Stall Fabrication & Designing
Elevate your exhibition presence in Singapore with Exproglobal, your trusted partner for comprehensive exhibition solutions. As the foremost Exhibition Stand Builders in Singapore and dedicated Exhibition Stand Contractors in Singapore, we bring over 12 years of experience to the forefront of every project. At Exproglobal, we prioritize excellence in crafting visually stunning and strategically designed exhibition stands that leave a lasting impression.
With over a decade of experience, Exproglobal is a beacon of industry expertise. Our skilled Exhibition Stand Builders possess the proficiency to construct stands that align with your brand identity and capture your audience's attention. As your dedicated Exhibition Stand Contractors, our team handles every aspect of the process, offering you a stress-free journey from concept to execution. Our talented Booth Builders in Singapore focus on creating displays that stand out, ensuring your booth becomes a noteworthy attraction.
Our creative Stand Designers in Singapore are visionaries in their field, staying abreast of the latest design trends and industry best practices. They seamlessly blend aesthetics with functionality, creating stands that look impressive and effectively communicate your brand message. At Exproglobal, we believe in collaborative success, and our experienced team ensures that every exhibition becomes an opportunity to showcase your brand with distinction.
Choose Exproglobal as your preferred partner for exhibition stands in Singapore and experience the perfect synergy of creativity, functionality, and reliability. We are not just Exhibition Stand Builders but your strategic allies in achieving impactful and memorable brand presence. Let us transform your vision into a compelling reality.
Audio-Visual Equipment Rental
Enhance your booth with cutting-edge audio-visual equipment. We offer a wide range of AV solutions for rent, from interactive displays to sound systems, to elevate your visitor experience.
For a flexible and cost-effective option, consider our booth rental services. Choose from a range of professionally designed rental booths to suit your needs, and enjoy a hassle-free exhibition experience.
Elevate your brand presence with our custom booth solutions. We design and build tailor-made exhibition booths that align perfectly with your brand identity, ensuring a unique and engaging showcase at every event.
Custom Trade Show Exhibits
Our custom trade show exhibits are designed to leave a lasting impression. From concept to creation, we craft stunning and innovative displays that captivate your audience and set you apart from the competition.
Our Exhibition Stand Design Portfolio In
Singapore
EXHIBITION STAND CONTRACTORS IN SINGAPORE
Singapore Airshow: At the Singapore Airshow, Exproglobal Exhibition Stand Builders elevate the aerospace and defence experience with meticulously crafted stands. Our expertise transforms exhibition spaces into dynamic showcases for cutting-edge aircraft and aviation technologies.
CommunicAsia: Exproglobal takes centre stage at CommunicAsia, weaving innovation into exhibition stands that reflect the pulse of the international information and communication technology industry. Our perspectives become immersive spaces where technology and connectivity converge.
Food & Hotel Asia (FHA): Exproglobal contributes to the culinary landscape at FHA, the leading international food and hospitality trade exhibition. Our stands are designed to showcase the vibrancy of the food and hospitality industry, creating a visual feast for attendees.
Singapore International Water Week (SIWW): Exproglobal's expertise extends to SIWW, where our exhibition stands to become a global platform for water solutions. We craft spaces that mirror innovation and sustainability, embodying the essence of water-focused technologies.
ITB Asia: Exproglobal is pivotal at ITB Asia, a leading travel trade show. Our stands become gateways to the Asia-Pacific region, reflecting the dynamic and diverse offerings of the travel industry.
BuildTech Asia: At BuildTech Asia, Exproglobal's exhibition stands to showcase the latest in the building and construction industry. Our designs become a testament to innovation, capturing the essence of the evolving construction landscape.
Singapore Yacht Show: Exproglobal takes luxury to new heights at the Singapore Yacht Show. Our stands become the epitome of sophistication, creating an immersive experience that aligns with the premier yachting and lifestyle event.
Asia Pacific Maritime (APM): Exproglobal's exhibition at APM stands tall in the maritime and offshore industry. We construct spaces that reflect prominence and innovation, showcasing the latest advancements in naval technologies.
Medical Fair Asia: At Medical Fair Asia, Exproglobal contributes to the international exhibition for the medical and healthcare industry. Our stands become platforms for showcasing medical innovations and healthcare solutions, fostering a space for progress and collaboration.
SITEX: Exproglobal brings innovation to life at SITEX, the consumer electronics exhibition. Our stands become hubs for the latest gadgets and technology, creating an immersive experience for tech enthusiasts.
With Exproglobal Exhibition Stand Builders, every exhibition becomes an opportunity to showcase excellence and innovation. Our commitment is not just to build stands; it's to create immersive experiences that leave a lasting impact. Partner with us for exhibition success that stands out.
WHY CHOOSE EXPROGLOBAL FOR YOUR EXHIBITION STANDS IN SINGAPORE
When it comes to making a significant impact at exhibitions in Singapore, Exproglobal stands as the unparalleled choice for comprehensive exhibition solutions. As a leading name in the industry, we bring forth a multitude of reasons why choosing Exproglobal sets your brand apart:
Expertise as Exhibition Stand Builders in Singapore: As seasoned Exhibition Stand Builders in Singapore, Exproglobal boasts a team dedicated to crafting stands that meet and exceed your expectations. Our industry-specific knowledge ensures that your exhibition presence resonates with the Singaporean audience.
Comprehensive Turnkey Solutions: Exproglobal is an Exhibition Stand Contractor in Singapore, offering complete turnkey solutions. From initial conceptualization to the final execution, our dedicated team handles every aspect, providing a seamless and stress-free exhibition journey.
Skilled Booth Builders in Singapore: Our experienced Booth Builders in Singapore bring your vision to life with precision and craftsmanship. Whether you require a small booth or a large-scale exhibit, our team ensures your booth becomes a standout attraction on the exhibition floor.
Creative Stand Designers in Singapore: Exproglobal's Stand Designers in Singapore are creative visionaries, staying abreast of the latest design trends and industry best practices. They seamlessly blend aesthetics with functionality, creating stands that look impressive and effectively communicate your brand message.
Tailored Solutions for Singaporean Audiences: We understand the unique preferences and expectations of the Singaporean audience. Exproglobal provides:
Tailored solutions.

Ensuring that your exhibition stand aligns perfectly with local sensibilities.

Making a meaningful impact on your target audience.
Proven International Experience: With over 12 years of experience, Exproglobal has successfully executed diverse projects globally. Our proven track record demonstrates our ability to navigate the intricacies of exhibition stand design and construction, delivering exceptional results consistently.
Global Expertise with a Local Touch: As a global company, we bring international standards to our services while incorporating a local touch. Our approach as both Stand Designers in Singapore and Exhibition Stand Contractors ensures a harmonious blend of global expertise and local relevance.
Choose Exproglobal as your trusted partner for exhibition stands in Singapore, and let us transform your vision into a compelling reality. With a commitment to excellence and a team dedicated to your success, we elevate your brand to new heights on the exhibition stage.

Idea Exchange
We listen to your ideas and understand your needs.

3D Design
We make your ideas true in 3D visuals.

Fabrication
One Platform for all the process and designs.

Transport
Stands transportation facility and national delivery
Build & Install
We build your stands at the committed time and ensure smooth opening.

On-Site Management
Our pro technicians supervise all the on-site management.

Dismantle & Storage
Efficient exhibition-show clean-up and stock management.
PROFESSIONAL BOOTH BUILDERS & DESIGN COMPANY IN
SINGAPORE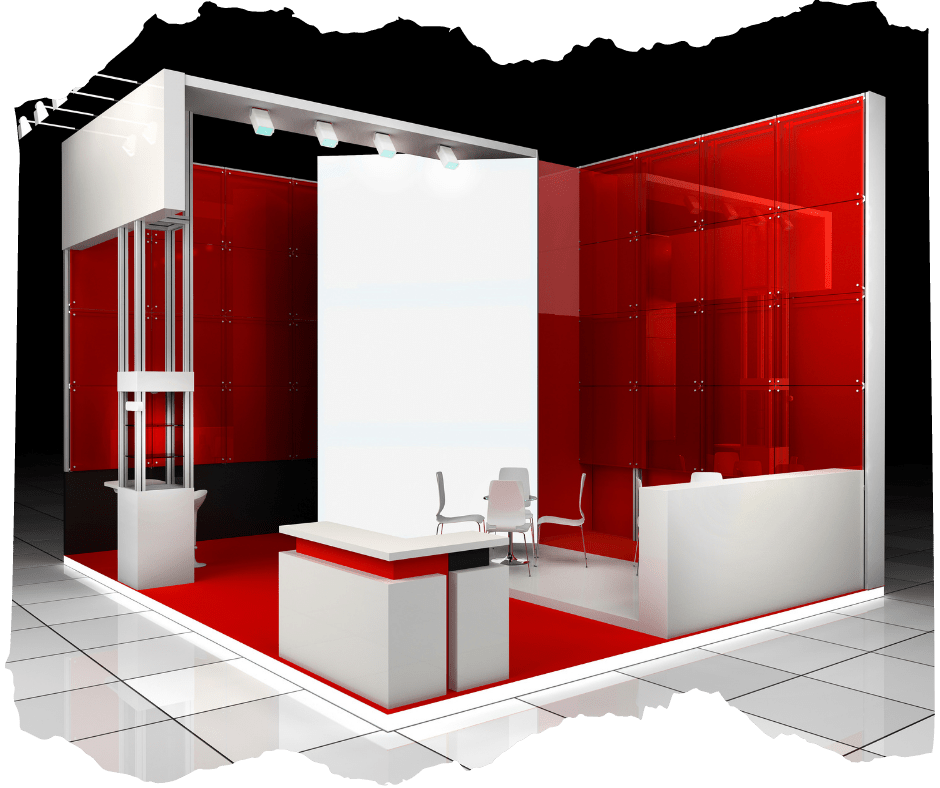 Take your brand's exhibition presence to a new level with ExproGlobal, your best partner in Singapore, for remarkable booth building and designing. We have experienced Exhibition Stand Builders in Singapore and Exhibition Stand Contractors in Singapore, providing speciality to everything we do.
We have an experienced and dedicated group of experts who work very hard on all the processes involved in developing exposition stands at Exproglobal. We have experienced exhibition stand builders who give careful attention to detail based on years of personal involvement. Our trusted project management team helps us manage the intricacies and ease this complexity into a stress-free, straightforward experience for you, from the concept to the completed product. For this, we offer state-of-the-art Booth Builders in Singapore that have ingenuity within and give your booth an edge, making it a showcase in the exhibition. Our creative stand designers assist in guaranteeing you will receive the top-quality exhibit service in the world.
Ensure that you turn to the expert exhibitions construction and designing services company, Exproglobal, for all your needs in Singapore. Allow our team of specialists to turn your exhibitions into efficient brand experiences. We are your dedicated partners with a passion for excellence in creating ideal spaces that will talk with your audience, thereby leading towards an exhibition success.