EXHIBITION STAND CONTRACTORS IN
MUMBAI
Rated #1 Exhibition Stand Designing Company In Mumbai
REQUEST FOR BOOTH QUOTATIONS
LEADING EXHIBITION STAND BUILDERS AND CONTRACTORS IN
MUMBAI, INDIA
We Specialize in Customized Stall Fabrication & Designing
Exproglobal is a leading provider of first-class exposition services in Mumbai, India. It is our mission as front runners in exhibition stand builders, contractors, booth builders, and design companies who have combined creativity with experience to help you boost your product and service awareness. However, our stands have become more than just structures. We have designed them as brand experiences with audiences in different industries like technology, fashion, or biologics.
Exproglobal is one of the trustworthy partners who deliver unblemished services as exhibition stand contractors. We go above industry standards from design concept to installation to create immersive booths that are focus points in industry events and tradeshows. Exproglobal, with its proven record of successful projects and client-oriented strategy, stands out as your reliable partner towards exhibition excellence in the Mumbai arena. Come aboard our team to lift your brand higher during each expo.
Audio-Visual Equipment Rental
Enhance your booth with cutting-edge audio-visual equipment. We offer a wide range of AV solutions for rent, from interactive displays to sound systems, to elevate your visitor experience.
For a flexible and cost-effective option, consider our booth rental services. Choose from a range of professionally designed rental booths to suit your needs, and enjoy a hassle-free exhibition experience.
Elevate your brand presence with our custom booth solutions. We design and build tailor-made exhibition booths that align perfectly with your brand identity, ensuring a unique and engaging showcase at every event.
Custom Trade Show Exhibits
Our custom trade show exhibits are designed to leave a lasting impression. From concept to creation, we craft stunning and innovative displays that captivate your audience and set you apart from the competition.
Trade Show Graphics Printing
Our graphic printing services ensure your branding and messaging shine. From banners to signage, we provide high-quality, eye-catching graphics that make your booth stand out and leave a lasting impression.
Trade Show Project Management
Let us handle the complexities of trade show logistics. Our experienced project management team ensures seamless execution, from planning and setup to on-site coordination, leaving you to focus on your business.
Experience your booth before it's built with our 3D rendering and concept development services. Visualize your exhibition space and make informed decisions to create a captivating booth design.
With our secure storage facilities, you can store your exhibition assets safely between events. It's a convenient solution that ensures your booth and materials are in top condition for every show.
Our Exhibition Stand Design Portfolio In
MUMBAI, INDIA
OUR EXPERIENCED IN EXHIBITION INDUSTRIES IN
MUMBAI, INDIA
We Specialize in Customized Stall Fabrication & Designing
At Exproglobal, we take pride in our role as premier exhibition stand builders, transforming spaces into captivating brand experiences at some of Mumbai's most renowned events. Let's delve into our contributions to these diverse exhibitions:
India International Trade Fair (IITF):
Our stands at IITF are crafted with precision, seamlessly blending technology, textiles, handicrafts, and more. The positive feedback we receive is a testament to our commitment to excellence across varied industries.
Mumbai International Film Festival (MIFF):
For MIFF, we design stands that complement the artistic spirit of documentary, short, and animation films. Our work enhances the immersive experience of attendees, garnering acclaim and positive feedback.
Techtextil India:
Exproglobal shines at Techtextil India, where our stands showcase technical textiles and nonwovens. Our innovative designs contribute to the exhibition's focus on cutting-edge advancements in the textile industry.
India International Jewellery Show (IIJS):
At IIJS, our stands become the perfect backdrop for the glittering jewelry world. We integrate design and functionality seamlessly, earning accolades for creating a platform that highlights diverse collections.
Gifts & Accessories Exhibition:
Exproglobal's stands at the Gifts & Accessories Exhibition are not just displays but experiences. We curate spaces that showcase gifts, stationery, and lifestyle products, drawing attention and earning positive feedback.
India Furniture Expo (IFE):
In the ever-evolving world of furniture design, Exproglobal stands out at IFE. Our stands reflect the latest trends and innovations, creating an immersive environment that resonates with industry professionals and design enthusiasts.
PharmaTech Expo:
Precision and innovation define our presence at the PharmaTech Expo. Our stands in the pharmaceutical and healthcare industry showcase the future of healthcare solutions, garnering positive feedback for their impact and functionality.
India Rubber Expo (IRE):
At IRE, our stands in the rubber industry seamlessly integrate exhibits on raw materials, machinery, and products. Positive feedback underscores our commitment to delivering comprehensive solutions in this specialized sector.
GJIIE (Gem & Jewellery India International Exhibition):
Exproglobal is a crucial player at GJIIE, providing a platform for the gem and jewelry industry. Our stands become showcases for exquisite products, earning accolades for their aesthetic appeal and functionality.
Index Fairs:
Exproglobal's stands at Index Fairs are a visual delight for interior design, architecture, and construction enthusiasts. Positive feedback flows in for our ability to create spaces that embody the latest trends and innovations in these dynamic industries.
Join Exproglobal at these exhibitions, where our stands go beyond expectations, creating memorable brand experiences and earning the best feedback from clients and attendees alike. Partner with us, and let's elevate your brand presence at every event."
WHY CHOOSE EXPROGLOBAL FOR YOUR EXHIBITION STANDS IN Mumbai, India
Take your exhibition to a higher level with Exproglobal – the ultimate company of professionals among exhibition stand builders, exhibition stand contractors, booth builders, and designers of stands in Mumbai. Learn why you should work with us and how we will make even a regular event truly exciting for each of your guests.
Expertise Across Industries: Exproglobal, as seasoned exhibition stand builders, can be referred to in this aspect. Exproglobal has vast experience in different industries, and your exhibition stand will reflect your brand identity.
Customized Solutions: Each brand is different, and we know this. By working in partnership with our expert booth builders and designers, we endeavor to develop bespoke strategies that match your brief accurately.
Cutting-edge Technology: We integrate leading-edge technologies in our designs, ensuring your exhibition display is distinct among many happening events in lively Mumbai shows.
Proven Track Record: A global leader in its segment, Exproglobal is the name to beat among exhibition stand subcontractors for having successfully executed numerous projects over time. Examples of the stands that have done well at various expos in Mumbai can be seen in our portfolio.
Attention to Detail: Every single detail must be taken into account while designing impressive exhibition stands. Exproglobal's detail-oriented approach to your booth's design, construction, and logistics guarantees perfection at every step.
Client-Centric Approach: We place much emphasis on your satisfaction, Exproglobal. We are customer-oriented, and you remain an input from brainstorming to implementation. Your information and visions we use to craft stand as a memory of our services.
Return on Investment (ROI): We understand the significance of realizing great value for money spent on an exhibition. Exporglobal attracts and leads to concrete outputs such that attending a show with them becomes rewarding.

Idea Exchange
We listen to your ideas and understand your needs.

3D Design
We make your ideas true in 3D visuals.

Fabrication
One Platform for all the process and designs.

Transport
Stands transportation facility and national delivery
Build & Install
We build your stands at the committed time and ensure smooth opening.

On-Site Management
Our pro technicians supervise all the on-site management.

Dismantle & Storage
Efficient exhibition-show clean-up and stock management.
PROFESSIONAL BOOTH BUILDERS & DESIGN COMPANY IN
MUMBAI, INDIA
YAY! We are Here To Help!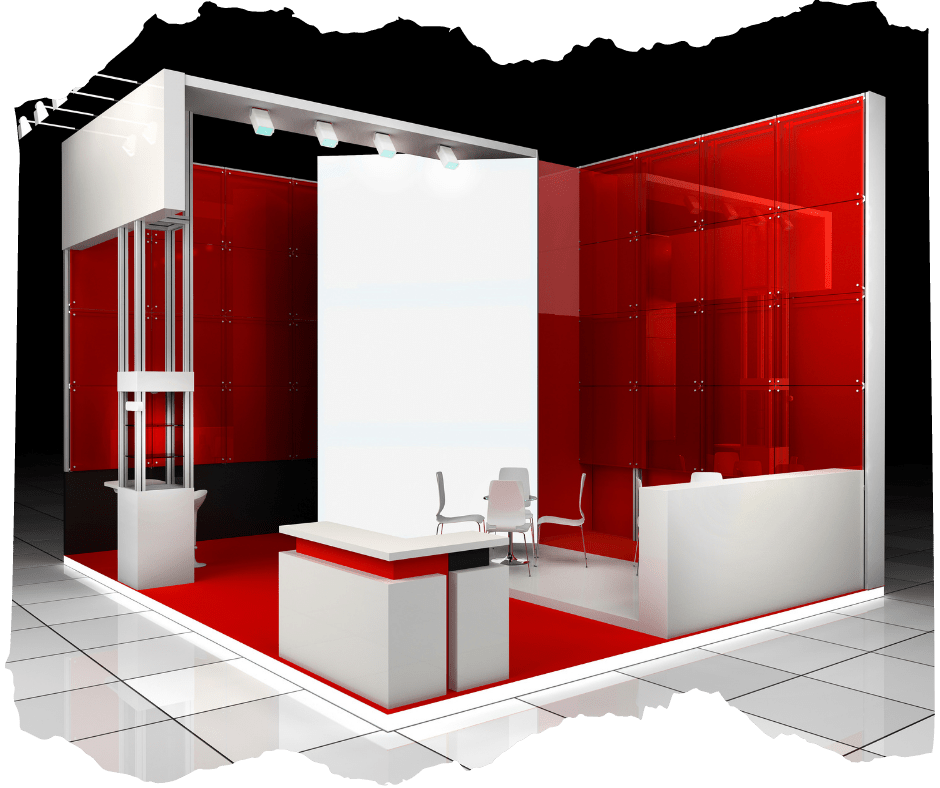 Try the height of professionalism through Exproglobal, a foremost expo booth builder and designer in Mumbai, India. Our expert workforce makes the most exceptional exhibition stand design and construction work. Our approach is quite special because we know how to handle the specifics of each brand, offering personalized offerings in compliance with the brands' unique character and goals. Exproglobal, from advanced techno-integration to a proven success story, ensures your booth is visible and yields an actual ROE for the exhibition. Join hands with us for comprehensive and customer-oriented solutions that bring out success at each of your events throughout Mumbai.
We are leading in redefining Mumbai's design and booth-building standards. Our team of experienced professionals works with a focus on creativity, innovation, and client satisfaction, ensuring that your booth goes beyond industrial standards. Exproglobal is your reliable ally in providing any form of exhibition stand builders, contractors, booth builders, and stand designers. We take a leading position in this market of Mumbai due to our comprehensive solutions, individualization for a particular brand name, as well as providing a significant return on investments. Make your next show unforgettable by working with Exproglobal.