EXHIBITION STAND CONTRACTORS IN
BARCELONA
Rated #1 Exhibition Stand Designing Company In Barcelona
REQUEST FOR BOOTH QUOTATIONS
EXHIBITION STAND BUILDERS AND CONTRACTORS IN
BARCELONA
We Specialize in Customized Stall Fabrication & Designing
Searching for premier exhibition stand builders and contractors in Barcelona, Spain? The search stops at Exproglobal Limited, combining creative ingenuity with artisans' skills to attain excellent outcomes. We have been serving different exhibitions and fairs in Barcelona for years, yet we always make unforgettable exhibition stands.
We base our reputation on creating exclusive quality stands that are tailor-made for each client. We are proud to have a range of highly rated and praised projects in our portfolio.
ExproGlobal is well renowned for moving beyond merely stand building. In the modern world, we know how vital strong internet visibility is. For optimized traffic and a higher-ranking position among search engines, we ensure your brand gets its own web space.
Professional exhibition stand builders and contractors like us promise your exhibition will succeed in Barcelona. Our committed staff will ensure it irrespective of whether you are a small localized venture or an international brand. All aspects of your exhibition, from concept to construction, are strictly controlled by us.
Audio-Visual Equipment Rental
Upgrade your event with our premier Audio-Visual Equipped. Our advanced equipment guarantees exceptional sound and astonishing pictures, thus making your affair memorable.
Our Booth Rentals are hassle-free solutions. Our customized, attractive graphics are efficient setup and will make your event presence memorable without hassle.
Have a great day on your next occasion with The Custom Booth Design. We create singular, engrossing exhibits depicting the essence of your brand, which will remain in people's minds.
Custom Trade Show Exhibits
Power of custom trade show exhibits. Our branded displays capture and make you unforgettable among many other strong brands at a trade show.
Trade Show Graphics Printing
Trade Show Graphics Printing – Make your brand loud. The colors of the banners are rich and sharp, and they can give your brand a loud and clear voice.
Trade Show Project Management
Seamless success in trade show project management. Nothing stops us from delivering a flawless experience with no loose end: your showpiece where nothing else matters.
You are revealing your vision through trade show 3D rendering. Dive into your showcase with stunning sharpness to capture your audience's attention for years.
Seamless Event Management with Trade Show Storage: Secure solutions in exhibitions and material presentations; smooth your shows and give you time on center stage.
Our Exhibition Stand Design Portfolio In
Barcelona, SPAIN
Exhibition Stand Designer In
Barcelona
We Specialize in Customized Stall Fabrication & Designing
We are the architects of your fantastic exhibition stand in the heart of exciting Barcelona city. Booth Design is just one of many products we offer in our company, and they are all experience-based and never just plain.
Unleashing Creativity
We are a group of creative minds who believe greatness lies beyond imagination. Our unique approach combines aesthetics and functionality when designing exhibition booths. Our experts bring on board your vision for an innovative yet contemporary look or just a good old classical one.
Beyond Design – Excellence
We can assure you that in this harsh exhibition industry, our "showpiece" will be appealing to the eye and function flawlessly. The details are evident in every booth we construct as we strive for excellence and top-notch performance.
Bringing Your Brand to Life
We're more than just designers. We exist to help you craft an authentic narrative that will capture the attention of your target market. Our captivating, immersive designs stay in people's minds long after they are gone.
Your Success, Our Mission
Not only are we designers, but also your business partners seeking success.  With thorough knowledge about the unique requirements for your event and an unwavering commitment towards surpassing creative limits, we have your back as you set yourself apart at your next exhibition.
Trust us in designing your exhibition stand in Barcelona and turn your brand's exhibition experience into a work of art! Your brand needs a stand that reflects the spirit of innovation and tradition of this unique metropolitan Trade show project management". Our attention to detail is second to none, and we ensure perfection in our flawless events at every level to enable your moment of glory.
WHY CHOOSE EXPROGLOBAL FOR YOUR BARCELONA EXHIBITIONS
YAY! We are Here To Help!
There's no standing out in this enchanting exhibition world. Here, ExproGlobal comes in with a twelve-year record of excellence. Instead of simply being a conventional supplier for the Barcelona Exhibition, we're your driver of unprecedented achievements that will transform your Barcelona exhibition through creativity, precision, and fantastic performance.
Unmatched Experience and Expertise
More than a decade of excellence in the industry makes ExproGlobal experts in transforming great ideas and concepts into enthralling realities. We have experienced staff who are highly knowledgeable, enabling you to get over-the-top show stands. This is why we have stayed dynamic for twelve years to outdo ordinary people designing Barcelona's landscape, which needs innovative designs.
Crafting Exhibition Stands That Shine
It's about design and creating stands that sparkle in the dense urban landscape of Barcelona expos. We are devoted to perfection, which can be seen in every detail, idea, and project implementation. Every show we build is evidence of our unwavering desire for excellence, ensuring that your imagination turns into reality and touches the hearts of people in attendance.
Proven Success Record
The reputation of any potential exhibition partner is the only relevant parameter. We have many success stories at ExproGlobal. Catalonia has seen many of our brands leading the way in shaping Barcelona's exhibition landscape. We have been established as pioneers due to our skill in developing singular, iconic, and involving encounters.
Don't Settle for Ordinary: Opt for ExproGlobal
Your brand needs a show organizer capable of capturing the dynamic spirit of Barcelona's coexistence of innovation and tradition. Why put up with the commonplace when you can have Exproglobal, a passport to a distinctive mark on international stages? Having had such invaluable experience for 12 years, we are your ideal partner in ensuring that you do not just exhibit but that your exhibition leaves a long-lasting impression. Make a unique selection and opt for Exproglobal.
Transforming Your Vision into Reality
We know that your brand's success is not all about one step alone; we are there with all our efforts. From idea to action, we are at your side in creating an impressive, interactive image on Barcelona's display site. We have been doing it for the last twelve years; hence, consider us partners in your path towards success! ExproGlobal can make your Barcelona exhibitions more elevated through the strength of innovation, accuracy, and excellence.

Idea Exchange
We listen to your ideas and understand your needs.

3D Design
We make your ideas true in 3D visuals.

Fabrication
One Platform for all the process and designs.

Transport
Stands transportation facility and national delivery
Build & Install
We build your stands at the committed time and ensure smooth opening.

On-Site Management
Our pro technicians supervise all the on-site management.

Dismantle & Storage
Efficient exhibition-show clean-up and stock management.
Exhibition Stall Designer In
Barcelona, Spain
YAY! We are Here To Help!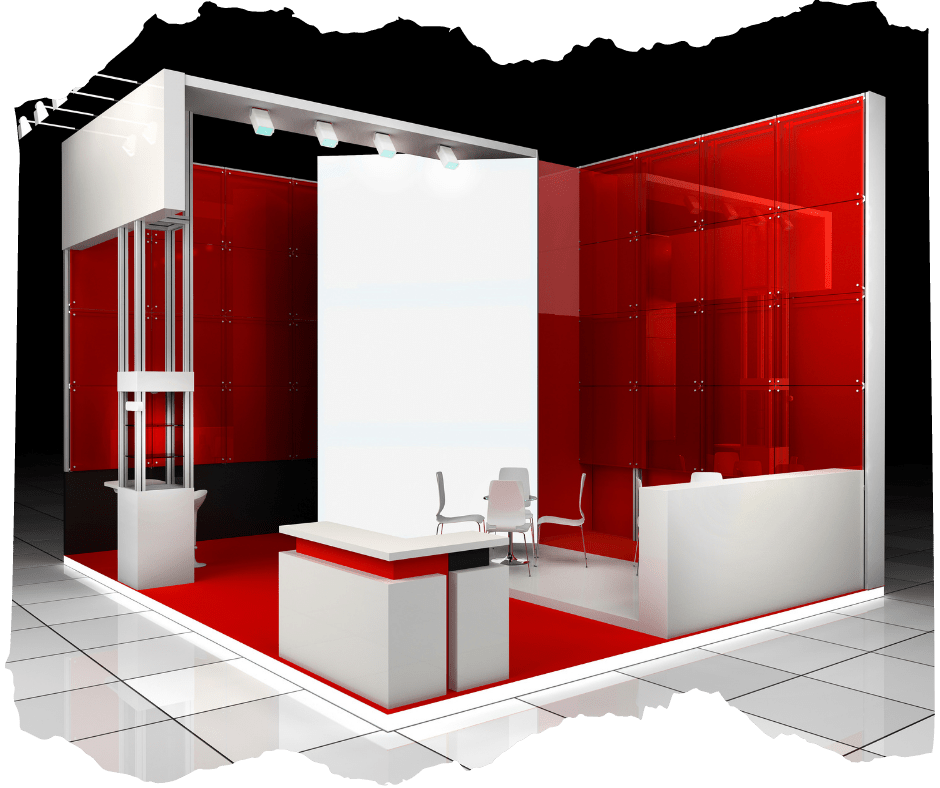 ExproGlobal specializes in Booth building and design in the middle of Barcelona's exhibition area. It boasts more than 12 years of experience in this field, being one of the leaders. We are more than merely the designers. We create immersive and unforgettable experiences that transform your brand.
Bespoke Excellence for Your Brand
Our approach towards your uniquely crafted brand is equally one of a kind. These booth designs are a part of your brand identity and can reach your target audience. However, going with ExproGlobal does not only signify an option; this partnership's focus will direct arrows toward propelling the brand to new heights.
From Vision to Reality
Your vision is our canvas. From the idea formulation to realization, we will be your compatriots when creating an attractive and persuasive impression in Barcelona's exhibition world. We don't just design at ExproGlobal but create stories about winning.
Excellence Embodied
Select a Booth builder/design company that does not just talk about sound quality but proves it. Select Export and start your journey with a brand. Let's form the intelligence, establish greatness, and celebrate 12 more powerful years of Barcelona's fair world.