EXHIBITION STAND CONTRACTORS IN
BANGALORE
Rated #1 Exhibition Stand Designing Company In Bangalore
REQUEST FOR BOOTH QUOTATIONS
LEADING EXHIBITION STAND BUILDERS AND CONTRACTORS IN
Bangalore, INDIA
We Specialize in Customized Stall Fabrication & Designing
At ExproGlobal, excellence at the frontier of exhibitions in Bangalore. We commit to bringing your brand to a new level as the leading exhibition stand builders and contractors. We approach each exhibition stand or booth carefully, paying attention to details in architectural design, quality implementation, and bringing innovative ideas into reality. Consider ExproGlobal, bespoke solutions specific to your brand and using the latest IT technology to create an impression during every occasion." We have demonstrated that we can serve all industries in Bangalore and other towns. We are experienced and will do our best to turn your ideas into a magnificent reality if you want exhibition stand architects, showcase contractors, exhibition stand constructors, or booth builders. Walk with Exproglobal for a hassle-free and practical exhibition experience in Bangalore, India, where your brand is the star amidst the bustling and challenging exhibit environment.
Audio-Visual Equipment Rental
Enhance your booth with cutting-edge audio-visual equipment. We offer a wide range of AV solutions for rent, from interactive displays to sound systems, to elevate your visitor experience.
For a flexible and cost-effective option, consider our booth rental services. Choose from a range of professionally designed rental booths to suit your needs, and enjoy a hassle-free exhibition experience.
Elevate your brand presence with our custom booth solutions. We design and build tailor-made exhibition booths that align perfectly with your brand identity, ensuring a unique and engaging showcase at every event.
Custom Trade Show Exhibits
Our custom trade show exhibits are designed to leave a lasting impression. From concept to creation, we craft stunning and innovative displays that captivate your audience and set you apart from the competition.
Trade Show Graphics Printing
Our graphic printing services ensure your branding and messaging shine. From banners to signage, we provide high-quality, eye-catching graphics that make your booth stand out and leave a lasting impression.
Trade Show Project Management
Let us handle the complexities of trade show logistics. Our experienced project management team ensures seamless execution, from planning and setup to on-site coordination, leaving you to focus on your business.
Experience your booth before it's built with our 3D rendering and concept development services. Visualize your exhibition space and make informed decisions to create a captivating booth design.
With our secure storage facilities, you can store your exhibition assets safely between events. It's a convenient solution that ensures your booth and materials are in top condition for every show.
Our Exhibition Stand Design Portfolio In
Bangalore, India
Exhibition Stand Designer In
Bangalore, India
We Specialize in Customized Stall Fabrication & Designing
Bangalore Tech Summit:
Expert Stand Designs:

 The stands of Exproglobal at the Tech Summit are well-made and serve as centers for talks about new trends in technology.

Innovation Showcases:

 The result is that we create innovative stands that attract experts and computer lovers with our fashionable design.
Bangalore Fashion Week:
Stylish Booth Designs:

 At Bangalore Fashion, Exproglobal's stands are well-styled and create a platform for displaying the latest trends in modishness.

Immersive Experiences:

 Our stands are not just for seeing but a journey of an experience that touches the hearts of designers, models, and fashion lovers.
India Electronics Week:
Hub of Interaction:

 The electronics-oriented show becomes an Exproglobal stand where professionals examine and interact with other market participants.

Meticulous Booth Designs:

 Our designed exhibition stand will help your brand outshine others in this particular show for the electronics industry.
Bangalore International Film Festival (BIFFES):
Cinematic Landscapes:

 The cinematic landscapes of Exproglobal's stands at biffes attract filmers, movie enthusiasts, and critics.

Impactful Experiences:

 Exproglobal is fundamental for the festival's success because the feedback we obtain proves the unique experiences made ​​through our stands.
Bangalore Bio:
Architect of Discussions: In the process, Exproglobal becomes an architect of biotechnology talks with platforms whereby the specialists, researchers, and players in this industry engage in these discussions.

Interactive Spaces:

 Our exhibition desks are knowledge information and interaction points for future growth in biomedical science.
Bangalore Literature Festival:
Narrative Spaces:

 Exproglobal's stands are narrative spaces created to host book launches, panel discussions, meetings of various authors, and interactions with authors.

Integral Cultural Presence:

 With our stands, Exproglobal becomes an inevitable factor of the literary dialogue with the aftermath of its impact on the cultural cloth of the event.
India Horeca Expo:
Showcases of Innovation: Exproglobal's various stands at the Horeca Expo become visual displays of innovative products and services for the different hospitality-related products and services.

Elevating Exhibition Experience:

 We enhance the exhibition by creating attractive design through which we contribute to successful hospitality and food service industry show.
IMTEX (Indian Metal-Cutting Machine Tool Exhibition):
Leader in Metalworking: While Exproglobal is a leading player in this sector, its booths offer visitors the latest technology and trends in metal cutting.

Meticulous Design and Execution:

 With careful planning and execution, our stands set the standard for IMTEX, making the show one of the most successful trade fairs in the industry.
Bangalore INDIA NANO:
Focal Points of Collaboration:

 Exproglobal's stands become the centers of discussions around nanoscience and nanotechnology at the NANO events.

Platform for Engagement:

 In modern science, we offer the opportunity to meet with other professionals and discuss new design ideas.
Bangalore International Exhibition Centre (BIEC) Events:
Immersive Brand Experiences: Exproglobal's stands at BIEC events cover machinery, electronics, and consumer goods, becoming immersive brand experiences.

Contribution to Success:

 Exproglobal remains preferred by various industries during all exhibition and exhibition seasons through our stands, which play a crucial role in overall show success.
Join Exproglobal at these diverse events for a point-by-point showcase of excellence, innovation, and a client-centric approach that sets us apart in the dynamic landscape of Bangalore's premier exhibitions.
WHY CHOOSE EXPROGLOBAL FOR YOUR EXHIBITION STANDS IN INDIA
We Specialize in Customized Stall Fabrication & Designing
Elevate your exhibition experience with Exproglobal, a distinguished name among exhibition stand builders, exhibition stand contractors, booth builders, and stand designers in India. Our commitment to excellence, innovative approach, and proven track record set us apart as the preferred choice for brands seeking impactful and visually stunning exhibition stands. Here's why you should choose Exproglobal for your next exhibition venture:
Expertise Across Industries: As seasoned exhibition stand builders, we bring expertise across diverse industries, ensuring that our designs align seamlessly with your brand identity, whether you operate in technology, fashion, biotech, or any other sector.
Tailored Solutions: Exproglobal understands that each brand is unique. Our team of booth builders and stand designers works closely with you to create customized solutions that reflect your brand values and resonate with your target audience.
Cutting-edge Technology: Staying ahead in the industry requires embracing the latest technology. Exproglobal integrates cutting-edge technology into our designs, ensuring your exhibition stands out and engages visitors effectively.
Proven Track Record: With a rich history of successful projects, Exproglobal is synonymous with excellence among exhibition stand contractors. Our portfolio showcases stands that meet and exceed client expectations, contributing to the success of exhibitions across India.
Attention to Detail: Every detail matters when it comes to creating impactful exhibition stands. Exproglobal's meticulous approach to design, construction, and logistics ensures that every element of your stand is carefully planned and executed, leaving no room for compromise.
Client-Centric Approach: At Exproglobal, we prioritize your satisfaction. Our client-centric approach means you are an integral part of the process, from ideation to execution. Your feedback and vision guide us in creating stands that make a lasting impact.
Return on Investment (ROI): We recognize the importance of achieving a significant return on your exhibition investment. Exproglobal stands to capture attention and contribute to tangible results, making your participation in exhibitions a worthwhile endeavor.
Choose Exproglobal as your trusted partner for exhibition stands in India, and experience the difference that expertise, innovation, and a client-centric approach can make to your exhibition success. Whether you need exhibition stand builders, contractors, booth builders, or stand designers, we have the experience and dedication to bring your vision to life.

Idea Exchange
We listen to your ideas and understand your needs.

3D Design
We make your ideas true in 3D visuals.

Fabrication
One Platform for all the process and designs.

Transport
Stands transportation facility and national delivery
Build & Install
We build your stands at the committed time and ensure smooth opening.

On-Site Management
Our pro technicians supervise all the on-site management.

Dismantle & Storage
Efficient exhibition-show clean-up and stock management.
PROFESSIONAL BOOTH BUILDERS & DESIGN COMPANY IN
Bangalore, India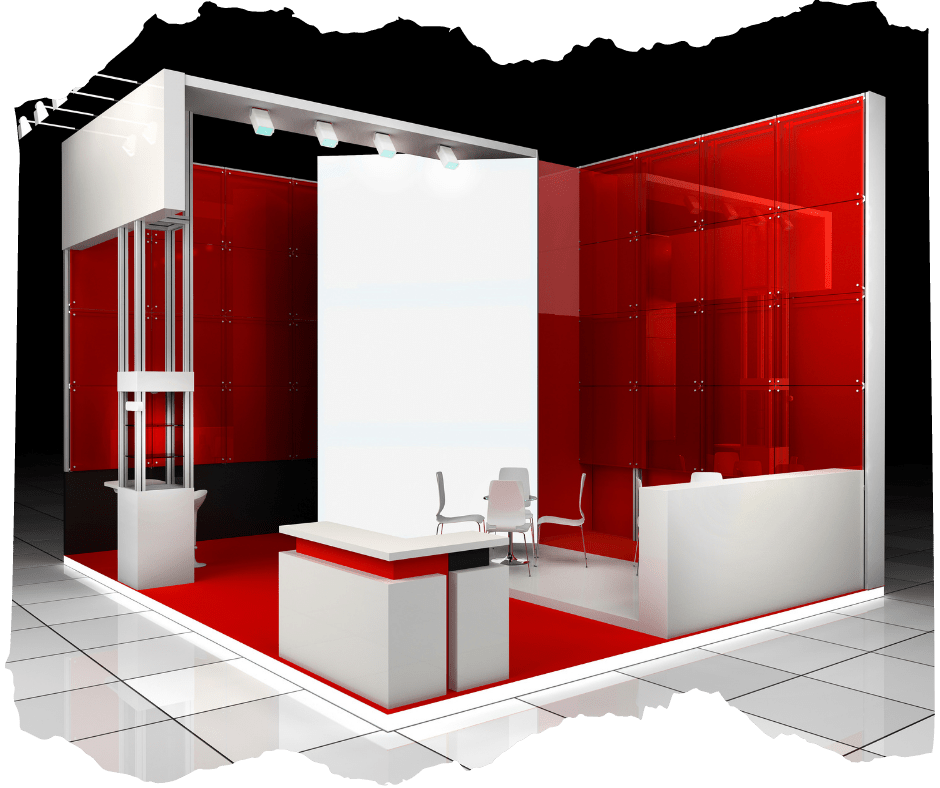 An exhibition is a valuable platform for businesses, educational festivals, and academic institutes to share knowledge and foster enduring relationships. To maximize the impact of such opportunities, having an impressive exhibition stall is crucial. This not only enhances exposure but also ensures the comfort of your business representatives. Many businesses opt to enlist the expertise of an exhibition stall designer in Bangalore to create a stall that captures attention and reflects professionalism.
When selecting an exhibition stall designer, efficiency is paramount. A reliable designer adept at creating compelling stalls should demonstrate a track record of delivering projects on time. Assess their previous work and client reviews to gauge their efficiency. Discuss project timelines and other essential aspects before finalizing a designer. Remember that the initially quoted prices are indicative and may be subject to change. A reputable exhibition stall designer should be flexible enough to accommodate various budgets while guaranteeing timely delivery. At Exproglobal, we understand the significance of your exhibition presence. As your dedicated exhibition stand and booth builders, we ensure that your stall meets and exceeds expectations. Our commitment is to deliver exceptional stands tailored to your unique needs on time and within budget. Partner with us, and let's make your next exhibition experience remarkable.