EXHIBITION STAND CONTRACTORS IN
TEHRAN
Rated #1 Exhibition Stand Designing Company In Tehran
REQUEST FOR BOOTH QUOTATIONS
LEADING EXHIBITION STAND BUILDERS AND CONTRACTORS IN
Tehran, Iran
We Specialize in Customized Stall Fabrication & Designing
The best exhibition stand builders and contractors in Tehran-Exproglobal elevate your brand's presence at trade shows. Having  focused on this industry for more than twelve years, we are your ideal partner in designing compelling and eye-catching exhibition stands suited for modern Iran's unique, vibrant settings.
Our experienced exhibitor specialists and booth engineers turn the image of your company from the abstract world to a reality where your customers can get in touch physically with your products. We focus on details from the conception of your stand to the point where it is finally assembled and becomes operational, aiming to attract the attention of everyone who walks past your booth and create consistency between your stand and your image. In Exproglobal, collaboration is highly embraced, and you remain at the core of the design and construction process to give you a customer-centred experience.
Make Exproglobal your preferred partner for exhibition stands in Tehran, Iran and relish the advantage of collaborating with a team committed to surpassing your expectations. The company is dedicated to ensuring quality while offering innovative solutions for clients' satisfaction during your exhibition.
Trade Show Graphics Printing
Our graphic printing services ensure your branding and messaging shine. From banners to signage, we provide high-quality, eye-catching graphics that make your booth stand out and leave a lasting impression.
Trade Show Project Management
Let us handle the complexities of trade show logistics. Our experienced project management team ensures seamless execution, from planning and setup to on-site coordination, leaving you to focus on your business.
Experience your booth before it's built with our 3D rendering and concept development services. Visualize your exhibition space and make informed decisions to create a captivating booth design.
With our secure storage facilities, you can store your exhibition assets safely between events. It's a convenient solution that ensures your booth and materials are in top condition for every show.
Our Exhibition Stand Design Portfolio In
Tehran
OUR EXPERIENCED IN EXHIBITION INDUSTRIES IN
Tehran, Iran
Visual Arts Extravaganza: At art exhibitions, Exproglobal turns your brand into a masterpiece, leveraging visual arts, paintings, sculptures, and installations to create captivating exhibition stands that leave a lasting impression.
Capturing Moments: In photography exhibitions, Exproglobal collaborates with local and international photographers to design stands that showcase your brand with the same artistry and precision captured in each photograph.
Preserving Heritage in Style: Cultural heritage exhibitions become immersive experiences with Exproglobal's stands, expertly crafted to display artefacts and items, seamlessly merging modern design with Iran's rich cultural history.
Industry Showcase: For trade and industry exhibitions, Exproglobal transforms your products and services into a visual spectacle, ensuring your brand stands out amidst the diverse array of industries on display.
Innovation Unveiled: At science and technology exhibitions, Exproglobal's stands are designed to highlight cutting-edge advancements in your field, creating an interactive space that resonates with innovation.
Book Fairs Beyond Words: For literary events, Exproglobal crafts stands that go beyond words, offering a visual representation of your brand's commitment to literature, books, and publishing excellence.
Cinematic Presence: Film and cinema exhibitions witness the magic of Exproglobal's stands, providing a cinematic backdrop that complements local and international films showcased at the event.
Fashion Forward: Fashion exhibitions see Exproglobal translating the latest trends in fashion and design into visually stunning stands that reflect the style and essence of your brand.
Culinary Delights on Display: In food and culinary exhibitions, Exproglobal's stands become a feast for the eyes, showcasing local and international cuisine with creative and engaging designs.
Wanderlust-Inducing Travel Stands: At travel and tourism exhibitions, Exproglobal transports attendees to their desired destinations through stands that evoke wanderlust, promoting tourism destinations and services with flair.
WHY CHOOSE EXPROGLOBAL FOR YOUR EXHIBITION STANDS IN Tehran, Iran
When it comes to making a profound impact at exhibitions in Tehran, Exproglobal stands as the unrivalled choice for businesses seeking a transformative exhibition experience. As leading exhibition stand builders, contractors, booth builders, and stand designers, Exproglobal brings expertise and a track record of success to elevate your brand presence.
Strategic Design Mastery: Exproglobal's forte lies in strategic design mastery. Our seasoned team of designers understands the art and science behind creating stands that capture attention and convey your brand's essence. From conceptualization to execution, we tailor designs that align seamlessly with your objectives.
Immersive Brand Experience: We don't just build stands; we craft immersive brand experiences. As dedicated stand designers, we conceptualize spaces that tell your brand story with visual finesse. Each element is meticulously curated to resonate with your audience, leaving an indelible mark on their memory.
Seamless Execution, Every Time: Exproglobal takes pride in its flawless execution. As reliable exhibition stand contractors, we ensure your vision comes to life precisely and punctually. Our commitment to quality extends from the first sketch to the final installation, providing you with a stress-free exhibition journey.
Custom Solutions for Every Need: Understanding that every brand is unique, Exproglobal specializes in crafting custom solutions. As adept booth builders, we adapt to your specific requirements, ensuring that your stand stands out amidst the diverse array of exhibitions in Tehran.
Innovative Designs, Measurable Impact: At Exproglobal, innovation is our driving force. We stay ahead of industry trends, infusing fresh ideas into our designs to give your brand a competitive edge. The result? Measurable impact and a remarkable presence that resonates with your target audience.
Choose Exproglobal as your trusted partner for exhibition stands in Tehran, Iran, and embark on a journey where creativity, expertise, and excellence converge to redefine your brand's exhibition narrative. Elevate your presence, captivate your audience, and leave an enduring impression with Exproglobal – where excellence meets exhibition brilliance.

Idea Exchange
We listen to your ideas and understand your needs.

3D Design
We make your ideas true in 3D visuals.

Fabrication
One Platform for all the process and designs.

Transport
Stands transportation facility and national delivery
Build & Install
We build your stands at the committed time and ensure smooth opening.

On-Site Management
Our pro technicians supervise all the on-site management.

Dismantle & Storage
Efficient exhibition-show clean-up and stock management.
PROFESSIONAL BOOTH BUILDERS & DESIGN COMPANY IN
Tehran, Iran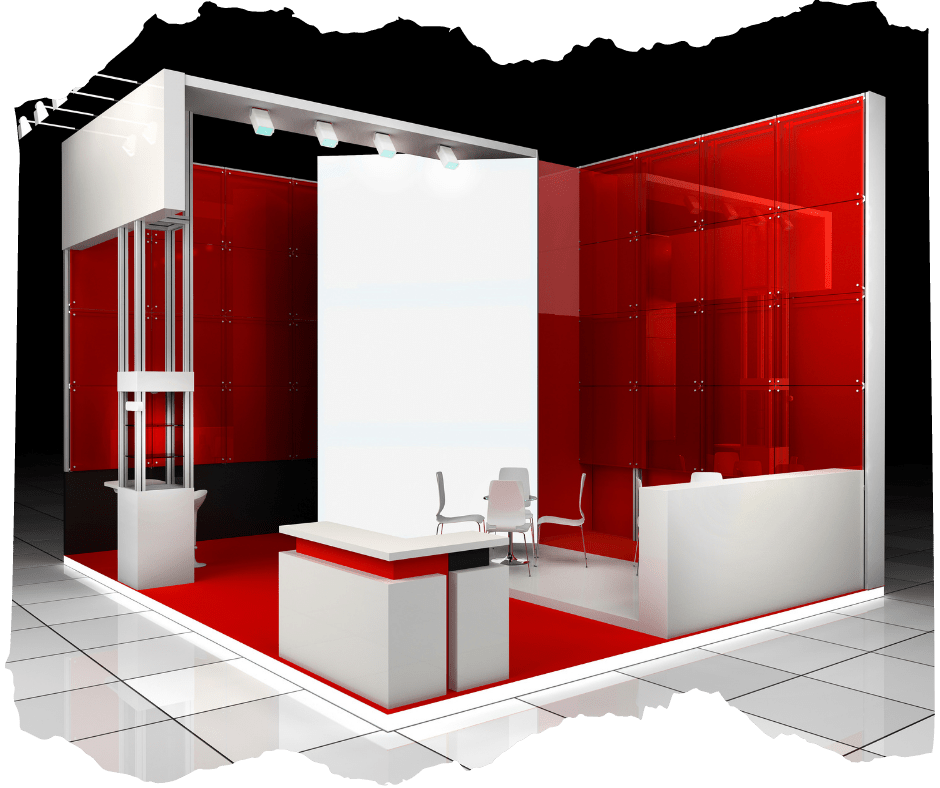 Exproglobal emerges as the ideal option for a business that requires superior quality for a stand in the vibrant exhibition environment of Tehran. Experienced exhibition stand builders, contractors, booth builders, and stand designers who have the right experience to create a meaningful change in your brand.
At Exproglobal, we know that every brand is different, and this is reflected in our superior services. We are professional booth builders who produce stands representing the unique essence of your logo and company image to make you stand out and be remembered by your target audience. They do not simply mean the structures; they are memorable brand immersion experiences we created.
Having successfully delivered on its promise previously makes Exproglobal proud to be regarded as an effective exhibition stand contractor in Tehran. Our team of experts oversees everything, starting from when concepts are developed through installations, which helps ensure that your vision comes out perfectly.
Consider Exproglobal to be your professional booth builder and design company in Tehran, Iran, and take off to have your brand's exhibition story retold through imagination, accuracy, and invention. Raise the status bar using Exproglobal to create a compelling exhibition showcase that enthuses everyone.