EXHIBITION STAND CONTRACTORS IN
MOSCOW
Rated #1 Exhibition Stand Designing Company In Moscow
REQUEST FOR BOOTH QUOTATIONS
LEADING EXHIBITION STAND BUILDERS AND CONTRACTORS IN
MOSCOW, RUSSIA
We Specialize in Customized Stall Fabrication & Designing
In the bustling world of exhibitions, where first impressions are paramount, trust the seasoned experts at Exproglobal to make your brand shine. With over a decade of experience, we've mastered the art of crafting stunning exhibition stands that captivate your audience and leave an indelible mark.
At Exproglobal, we understand that your exhibition stand isn't just a structure; it's your brand's stage, a canvas to convey your message, and a powerful tool to attract prospects. That's why we take your vision and transform it into a reality that resonates with your target audience. Our services are all-encompassing. Our innovative design team breathes life into your concepts, creating bespoke stands that mirror your brand's uniqueness. We're not just builders; we're creators. Our construction and installation experts ensure every detail is executed with precision and quality, delivering a finished product that commands attention. But our commitment doesn't end there. Exproglobal offers full project management, ensuring seamless execution from planning to on-site coordination. We recognize that your brand deserves a stand as unique as you are, and that's why our services are highly customizable, adapting to your specific needs.
Quality is our hallmark. Every project we undertake is marked by excellence, setting new industry standards with every build. Partnering with Exproglobal means partnering with a team that's dedicated to your success. Don't settle for ordinary; choose extraordinary with Exproglobal. Experience the difference that comes with Moscow's foremost exhibition stand builders and contractors. Let us elevate your brand's presence to new heights. Contact us today to discuss your project and witness how we turn your vision into reality.
Our Exhibition Stand Design Portfolio In
MOSCOW, RUSSIA
OUR EXPERIENCED IN EXHIBITION INDUSTRIES IN MOSCOW
Moscow International Automobile Salon (MIAS): At MIAS, we, as Exproglobal, a leading exhibition stand builder and contractor, showcased our expertise as "innovative solutions for the automotive industry," connecting with industry leaders and presenting our "cutting-edge offerings" to a discerning audience.

International Industrial Trade Fair (INNOPROM): As participants in INNOPROM, we, the team at Exproglobal, highlighted our contributions as exhibition stand builders and contractors to the "machinery and manufacturing sectors." We revealed our "technological advancements" and forged valuable connections with like-minded professionals.

Moscow International Travel & Tourism Exhibition (MITT): Our presence at MITT, representing Exproglobal, a trusted booth builder and stand designer, was a testament to our role in "promoting tourism and travel solutions." We actively engaged with travel agencies, potential clients, and industry partners, fostering discussions and exploring new opportunities.

International Food Exhibition (PRODEXPO): PRODEXPO provided a dynamic platform for us, Exproglobal, a renowned exhibition stand contractor, to "showcase our contributions to the food and beverage industry." During the event, we engaged with visitors, shared our diverse "product range," and delved into promising collaborative opportunities.

WorldBuild Moscow (formerly MosBuild): At WorldBuild Moscow, our exhibition presence, as Exproglobal, experienced booth builders and stand designers, highlighted our involvement in the "construction and interior design sectors." We effectively demonstrated our "construction materials," "innovative technologies," and forward-thinking "design solutions" to a receptive audience.

International Aviation and Space Salon (MAKS): Participating in MAKS, we, the team at Exproglobal, known as expert exhibition stand builders, presented our pioneering contributions to the "aerospace and aviation industries." Our exhibition presence allowed us to engage with seasoned aviation professionals, showcase our cutting-edge "offerings," and explore potential collaborations on the horizon.
Why Choose ExproGlobal For Your Exhibition Stands in MOSCOW
At ExproGlobal, we understand that your exhibition stand is more than just a structure; it's a representation of your brand and a vital tool for making a lasting impression. Whether you're participating in Moscow's prestigious exhibitions or events, it's essential to have a partner who can transform your vision into a reality that stands out in the crowd.
Experience: With over 12 years in the industry, we've amassed a wealth of experience and expertise as exhibition stand builders and contractors. Our seasoned team has a deep understanding of the nuances of creating stands that capture attention and engage your target audience effectively.
Customization: We recognize that every brand and every project is unique. That's why we offer highly customizable solutions tailored to your specific needs. Whether you require a stand that aligns with your brand identity, a striking visual impact, or a particular functionality, we've got you covered.
Quality Assurance: At ExproGlobal, quality is non-negotiable. We take immense pride in our commitment to excellence. Our rigorous quality control ensures that your stand meets the highest standards, ensuring it not only looks impressive but is built to last.
End-to-End Service: From the initial design concept to construction, installation, and project management, we offer comprehensive end-to-end services. This means you can entrust your entire exhibition project to us, knowing it will be executed seamlessly.
Innovation: In an ever-evolving world, we stay at the forefront of industry trends and innovations. Our team is dedicated to infusing creativity and innovation into every stand we build, ensuring your presence remains fresh and captivating.
Networking Opportunities: Beyond the design and construction, we also understand the importance of networking at these events. Our experienced team will not only build your stand but also ensure it aligns with your networking and lead-generation goals.
Global Reach: While we're based in Moscow, our work has a global reach. Our reputation extends far beyond the city, making us a preferred choice for international exhibitors seeking to make their mark in Moscow.
ExproGlobal is more than just an exhibition stand builder and contractor; we are your strategic partner for success. We're committed to making your exhibition experience in Moscow memorable and impactful. Choose ExproGlobal for your exhibition stands, and let's turn your vision into a show-stopping reality.

Idea Exchange
We listen to your ideas and understand your needs.

3D Design
We make your ideas true in 3D visuals.

Fabrication
One Platform for all the process and designs.

Transport
Stands transportation facility and national delivery
Build & Install
We build your stands at the committed time and ensure smooth opening.

On-Site Management
Our pro technicians supervise all the on-site management.

Dismantle & Storage
Efficient exhibition-show clean-up and stock management.
PROFESSIONAL BOOTH BUILDERS & DESIGN COMPANY IN
MOSCOW, RUSSIA
We Specialize in Customized Booths & Designing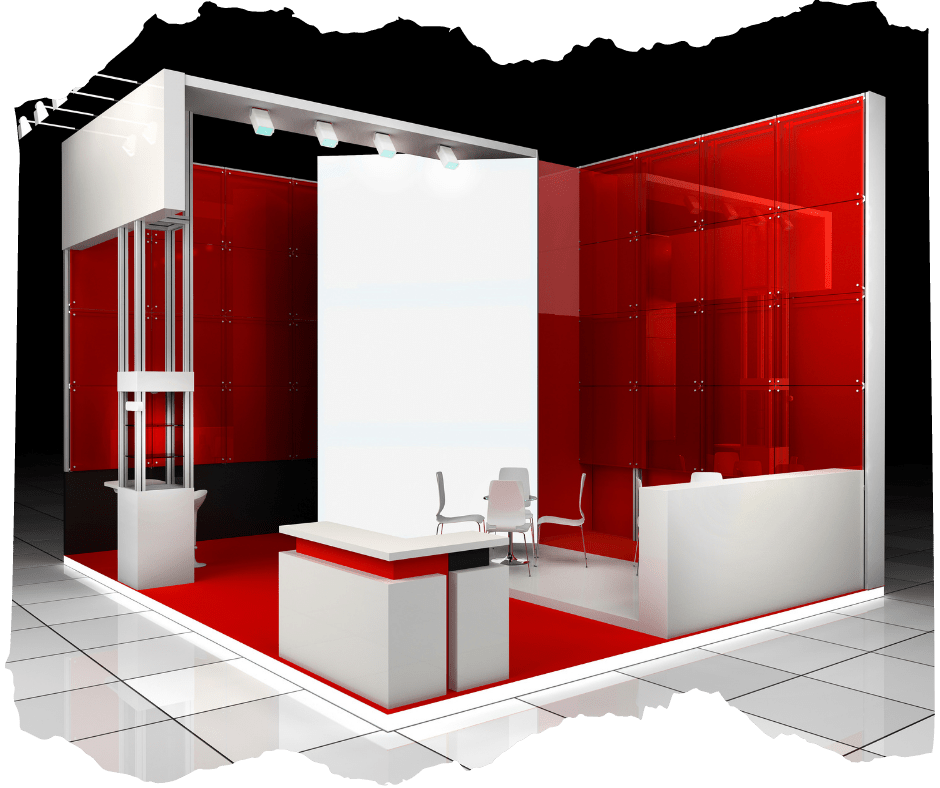 As the foremost professional booth builders and design company in Moscow, ExproGlobal, known for our expertise as exhibition stand builders and contractors, leverages over 12 years of experience to excel in the vibrant world of exhibitions. Our commitment to design excellence, led by our skilled booth builders and stand designers, is the cornerstone of our service, where our talented team seamlessly blends creativity with a profound understanding of your brand and objectives, ensuring that the exhibition stands we create are not just structures but powerful brand representations. What sets us apart further is our unwavering dedication to customization; we recognize that no two brands are alike, and we, as expert exhibition stand contractors, tailor our services to ensure that your stand is a unique reflection of your brand identity and messaging. Quality and durability, characteristics vital to exhibition stand builders, are at the core of our offerings, ensuring that your stand not only captivates visually but also withstands the demands of multiple exhibitions. With our end-to-end solutions, from conceptualization and design to construction and installation, we handle every detail, allowing you to focus on your core business. Our innovative approach ensures that your exhibition presence, crafted by our skilled booth builders and stand designers, stays ahead of the curve, and our global perspective allows us to offer an international approach, bringing fresh and diverse perspectives to your exhibition stands. Beyond design and construction, our experienced team ensures that your stand aligns with your networking and lead-generation goals, maximizing your exhibition presence.